Southern Arizona's clear blue skies and dry climate have attracted aerospace related businesses since the early 1900s. The Aerospace & Defense industry is a major component in the region's economy and Tucson and Southern Arizona enjoy the fifth highest concentration of aerospace and defense employees in the country.
The region's aerospace industry presence includes defense and space-related manufacturing, research and development, industrial high-tech fields, assembly, distribution, and warehousing. It also includes firms that maintain and rehabilitate the nation's commercial aircraft fleet.
Tucson's highly concentrated aerospace product and parts manufacturing sector has an 8.35 location quotient (source: economy.com), a ratio calculated to compare a region's industrial activity level to the rest of the United States. The location quotient means that Tucson is 8.35 times more concentrated in the aerospace product and parts manufacturing industry than the average of all metropolitan statistical areas across the country.
There are many state and local organizations dedicated to aerospace advancement such as the Arizona Technology Council (AZTC). The AZTC is a non-profit trade association that connects, represents and supports members through initiatives, advocacy, networking, effective communications, business support and access to educational forums. The association promotes the interests of a variety of technology, manufacturing and service firms, such as those in the aerospace, bioscience, defense, electronics, information technology, nanotechnology, optics, semiconductors and telecommunications sectors.
Military
The military is a key employer in Southern Arizona and a critical component of the aerospace and defense industry. Many of the aerospace industry's finest companies benefit from the vast experience of military retirees that choose to continue their professional careers in the region.
Davis-Monthan Air Force Base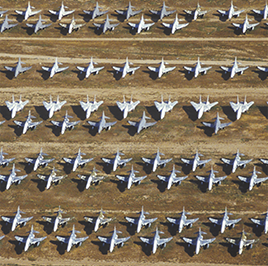 Davis-Monthan Air Force Base, founded in 1925, is the fourth-largest employer in Pima County and the third-largest installation in air combat command. The 355th Wing is the host unit at the base and provides medical, logistical, and operational support to all associate units. According to a recent Davis-Monthan Economic Impact Analysis Report, the Base continues to be a major driver for economic prosperity throughout Southern Arizona. The report captures key Davis-Monthan economic data regarding employment; annual payroll, expenditures and estimated financial impacts; indirect and direct jobs created; retiree data; and the overall annual economic impact estimate.
Last year alone, the economic impact of Davis-Monthan Air Force Base included:
Morris Air National Guard Base
Morris Air National Guard Base is the nation's premier F-16 training base and the home of the 162nd Wing which was founded in 1956.  Morris ANG Base is the second largest Air National Guard Base in the country and employs nearly 1,900 airmen and civilian personnel.  Their diverse missions include F-16 pilot training for U.S. and partner nations, Intelligence, Surveillance, and Reconnaissance missions (ISR), an Aerospace Control Alert Detachment, and domestic operations response capabilities.  The 162nd contributes $383 million annually to the Tucson community and spends over $94 million in annual payroll.
Fort Huachuca
Fort Huachuca is home to the U.S. Army Intelligence Center of Excellence, bringing with it the 111th Military Intelligence Brigade. The Center is the Army's premier intelligence training facility for its active, reserve and guard component soldiers and also trains Air Force and Marine Corps personnel. The Fort also serves as the Department of Defense's HUMINT Training Joint Center of Excellence, providing all advanced human intelligence training across every branch of the military. With a mild climate, 320-plus flying days a year, and 964 miles of restricted airspace that ranges from surface to 30,000 feet, Fort Huachuca is the Army's only training facility for Unmanned Aircraft System (UAS) operators in the United States. Fort Huachuca is the largest employer in Cochise County with 26,921 employees and provides a $2.4 billion economic impact on the State of Arizona.
Workforce
From aerospace engineers to FAA-certified airframe technicians, Tucson has the educational resources to supply all levels of aerospace workers to companies in the region. Throughout Southern Arizona, there are currently over 25,000 people employed in the aerospace industry.
The University of Arizona
Pima Community College
Embry-Riddle Aeronautical University
Pima County Aerospace Research Campus
The Pima County Aerospace Research Campus is being developed to address the increasing need for supply chain locations for the aerospace industry and other key sector industries as well as imports/exports with Mexico. The property is mostly flat, virgin desert located immediately south of the Tucson International Airport complex and Raytheon Missile Systems.
With over 500 total acres available in planned lots ranging from 24 to 47 acres, users have the opportunity to consolidate and customize properties as needed to meet their specific needs. This park is the initial portion of a larger planned industrial park that will encompass as much as 2,400 additional acres over time. Recent announcements of companies locating in the Park include Raytheon Missile Systems, Vector Launch and World View Enterprises.
Employers
The aerospace and defense cluster is a leading contributor to the local economy in Southern Arizona. It encompasses over 200 local companies including a number of large international corporations with manufacturing facilities in Pima County where they make aircraft parts and equipment, or refurbish existing aircraft.
Click here for a map of aerospace employers in Southern Arizona.
Major Employers