Downtown Renaissance
Downtown Tucson has experienced a miraculous economic revitalization with unprecedented levels of investment, hundreds of new businesses, and thousands of new jobs resulting in a thriving Downtown environment. Geographically located in the heart of the city, Downtown Tucson has transformed itself from a government center to the region's entertainment hub. There is an increasing variety of restaurants, nightlife and cultural arts venues, and scores of major events that attract more than a million people annually.
Since 2008, Downtown business has shown steady growth and diversification. Commercial investments have led to new construction and renovations to a number of historic buildings, creating unique spaces for street-level businesses and office-based firms. New construction, primarily located near the Sun Link modern streetcar line, has re-established Downtown as a magnet for real estate development, and has been a major contributor to Tucson's economy.
View a map of projects in Downtown.
Rio Nuevo
Rio Nuevo Multi Facilities District is a Tax Increment Financing (TIF) district formed to utilize a portion of state sales tax dollars to revitalize Tucson's downtown core.  The District mission is to partner with the private sector to build the vital components of a vibrant downtown.  Downtown Tucson is now considered one of the most successful  urban environments in the country, home to new restaurants, a remodeled arena, busy concert venues, revitalized theaters, modern light rail, and corporate headquarters like Unisource Energy, Madden Media, Sinfonia Rx, Samsung's SmartThings, Hexagon Mining and Caterpillar.  New housing units are being built in downtown Tucson connected to urban living through the new Modern Streetcar. The State of Arizona recently extended the TIF to 2035 giving the Rio Nuevo Board more time and surety to make significant and critical investments in downtown.
Employment
There are 19 new offices, including three new corporate headquarters with over 3,000 new or relocated jobs. New parking garages with tens of thousands of square feet of prime retail space. The largest employment sectors in Tucson are professional and business services (12.7%), government (19.9%), education and health services (17.1%), leisure and hospitality (11.2%), trade, transportation and utility (15.8%).
Source: Downtown Tucson Partnership, 2019; MAP AZ Dashboard, 2019
Investment
Over the past eight years, there has been $439 million in private investment and $541 million in public investment in Downtown (Downtown Tucson Partnership, 2015). More recently, eight projects totaling $34.5 million were completed  (Downtown Tucson Partnership, 2017).
Current projects include a list of 17 projects that total $305 million in capital investment, 530 housing units and 428,500 sq.ft of new commercial space. The largest of those projects is the new headquarters for Caterpillar's Surface Mining & Technology Division. That building is projected to be completed in Spring 2019. Proposed projects include a 20-story, $110 million mixed-use building that will be home to retail, parking and Class A office space.
Office Space
The future of office space will be driven by demographic changes within the workforce. The traditional compartmentalized office layout is being augmented by coworking models that seek to promote collaboration and creativity through open floor plans, shared community space, and creative office designs. Downtown is currently home to four coworking spaces: Connect Coworking, Rail Yard, Regus Downtown Tucson, and Xerocraft Hackerspace.
Arts, Culture and Entertainment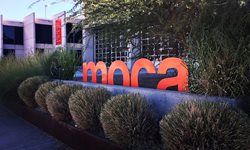 Downtown is the cultural center for Tucson, with seven museums, six theaters, and a thriving art and music scene. Cultural arts venues Downtown host performances by the local symphony, ballet, theater, and opera companies. There are approximately 120 artists with studios located in historic warehouses throughout the Warehouse Arts District. The recently restored Rialto and Fox theaters attract performers from around the world. Together, the two theaters account for significant annual economic impact Downtown. Eighteen nightlife venues have opened Downtown since 2008, with each new business bringing a new level of excitement to Congress Street.
Tucson Streetcar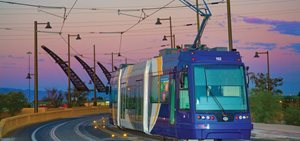 The Tucson Streetcar is a 3.9 mile route connecting major activity centers including The University of Arizona, Arizona Health Sciences Center, University Main Gate Business District, 4th Avenue Business District, Congress Street Shopping and Entertainment District, and the Mercado District. Approximately 100,000 people live and work within a half mile of the route.
To date, there has been a total of $2.4 billion invested in projects along the streetcar route, with $1.64 billion in private investment on a total of 69 projects. This total includes $480M in public projects in downtown. The top three projects completed to date include $427M Banner University Medical Center, the $165M UA Health Sciences Innovation Building and the $137M UA Honors College. (Source: TREND Report, January 2020)
Top 10 List Includes:

$427M Banner University Medical Center
$165M UA Health Sciences Innovation Building
$137M UA Honors College
$65M TEP office building
$55M Cadence student housing (2012)

$52M Caterpillar SM &T HQ (2019)
$39.5M Hub II (2016)
$38M Graduate Tucson & The Collective Apartments at Main Gate (2020)
$35M Monier Apartments (2019)
$35M AC Hotel Tucson by Marriott (2017)
(Source: TREND Report, January 2020)
Special Events and Tourism
There are more than 50 major events held annually Downtown, attracting more than one million visitors to the area. (Downtown Tucson Partnership, 2018). The nation's largest gem and mineral show, the Tucson Gem, Mineral, and Fossil Showcase, has an estimated economic impact of $120 million (FMR Associates, 2014). The majority of Downtown events reflect the unique sense of identity that defines Tucson. One example of a significant cultural event Downtown is the All Souls Procession, which attracts approximately 100,000 participants and spectators, while generating $17.5 million in economic impact (FMR Associates, 2013).