Transportation Infrastructure
Connected to the World by Road and Rail
Southern Arizona is readily connected to the global marketplace with strategic north-south/east-west rail and a well-connected highway infrastructure. Tucson is on U.S. Interstate 10, one of only three coast-to-coast Interstates. Interstate 19 branches off I-10 in downtown Tucson and continues to Nogales, Sonora, Mexico. Located on Union Pacific's main line, Tucson boasts the Port of Tucson, an intermodal facility located in Tucson's Foreign Trade Zone. With about $213 million of Federal stimulus funding, the Mariposa Port of Entry in Nogales was expanded in 2014.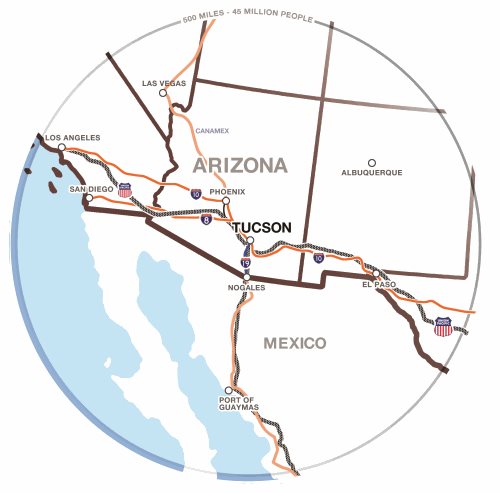 Take Flight
Seven airlines fly nonstop to 20 destination airports from Tucson International Airport (TUS) with one-stop connections to hundreds of destinations around the world. Almost 60 flights take off every day from TUS with more than 6,200 available seats. TUS nonstop destinations include Los Angeles, Las Vegas, San Francisco, San Diego, Denver, San Diego, Portland, Seattle, Phoenix, Austin, Dallas, Houston, Atlanta, Charlotte, Minneapolis/St. Paul, Salt Lake City, and Chicago. TUS is a viable resource for businesses to grow cargo operations. (Source: TUS Website, 2016) There are 10 additional general aviation airports throughout Pinal, Cochise and Santa Cruz counties.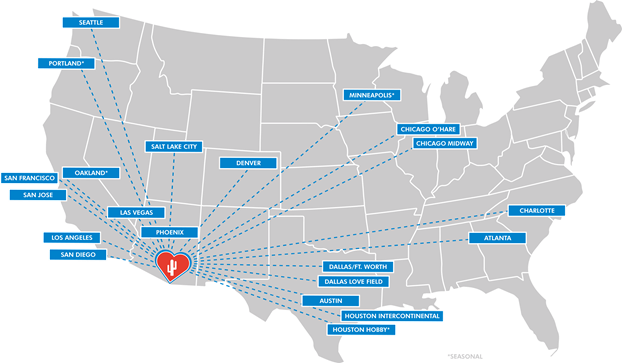 Deep Water Ports Offer Global Accessibility
Southern Arizona benefits from international commerce generated by the deep-water ports located on the Western coasts of the United States and Mexico. The Port of Los Angeles, Port of San Diego and the newly expanded Port of Guaymas in Mexico provide Tucson and Southern Arizona with access to global shipping destinations. Southern Arizona's location in the Mountain Time Zone means same day communications with the West and East Coasts, as well as with Canada and Mexico.